We're rounding up the best iPad apps for making, mixing and playing music. We've even chucked in a few that are just plain fun! After just over a year of being released we're already seeing some gems.
Full Studio Apps
Studio Mini XL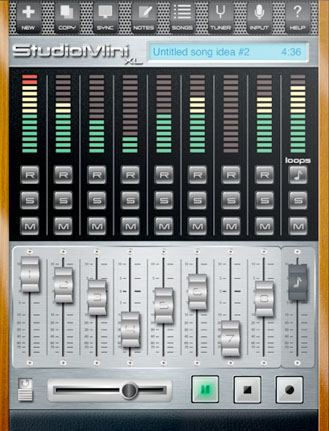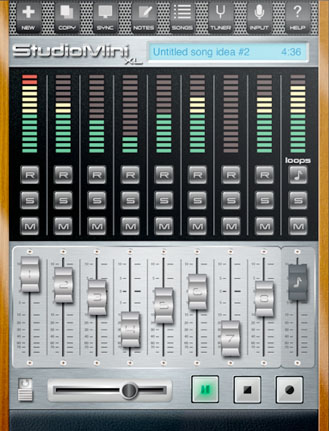 StudioMini is a recording studio for the iPad, iPhone and iPod touch. It is powerful yet easy to use and offers users on all iOS devices the ability to multitrack record their music, just like the pros do in expensive studios. Users can create and share final mixes of their songs in CD quality audio, right from their iPad, iPhone or iPod touch.
Price: $10.99
View on iTunes
Studio Track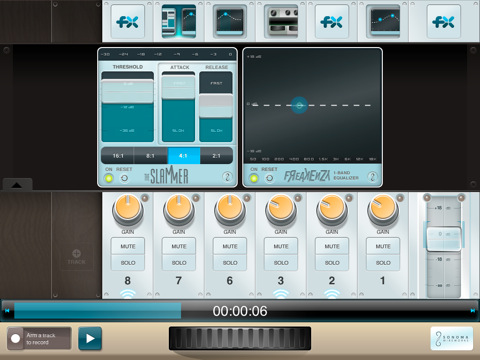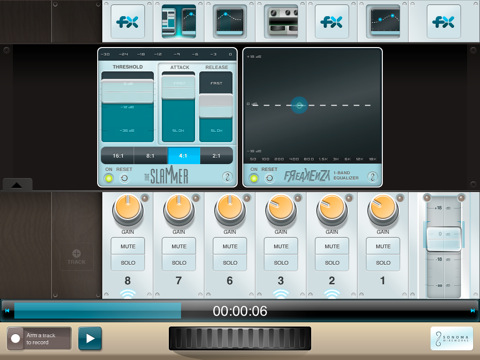 StudioTrack is a songwriting tool for musicians who want to capture musical ideas and record songs on their iPad. StudioTrack works with the iPad built-in microphone and headphones. WiFi sync allows StudioTrack recordings to be downloaded into any recording software to continue working on songs.
Price: $39.99
View on iTunes
iSequence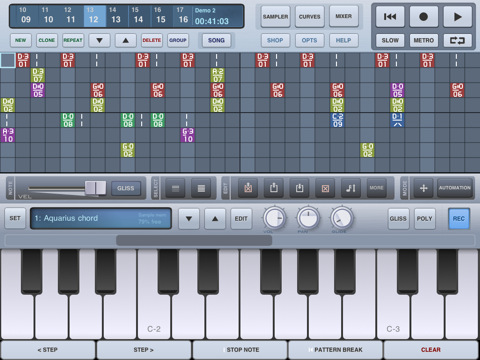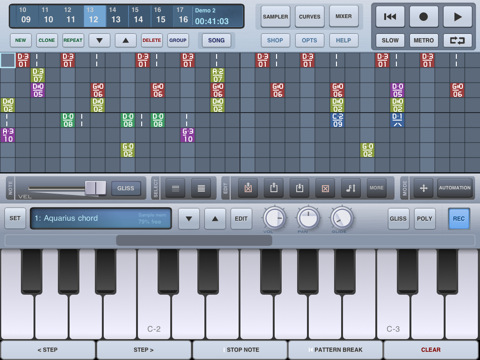 iSequence is one of the most powerful music creation studio designed exclusively for iPad. Thanks to intuitive 8-track sequencer, tons of instruments, flexible mixer with DSP effects you can easily program and record profesional loops, beats and melodies. Now you control every aspect of your music project.
Price: $14.99
View on iTunes
Controllers
AC7-Core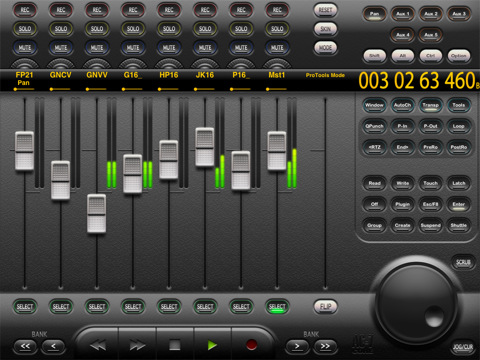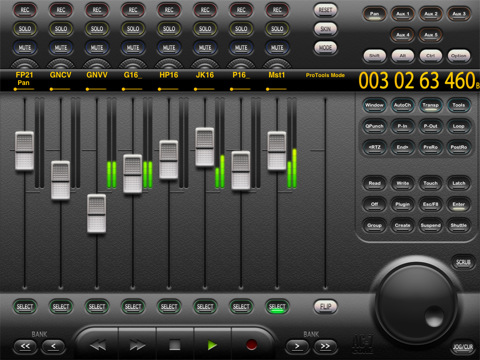 The AC7-Core is a wireless/wired control surface utilizing CoreMIDI for simple setup and reliable operation. There are dedicated modes for controlling Logic, Pro Tools, Cubase, Abelton and more.
Price: $7.99
View on iTunes
V-Control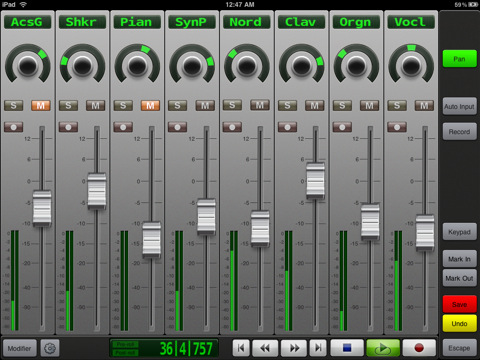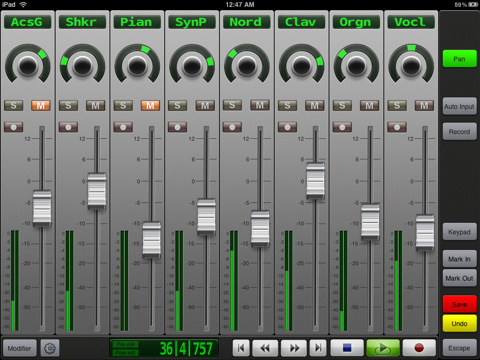 V-Control provides a multi-touch control surface for Pro Tools on a Mac and soon on Windows systems. V-Control uses WiFi to control transport, editing, and mixing functions with Pro Tools 7 and later, HD or LE.
Price: $19.99
View on iTunes
TouchOSC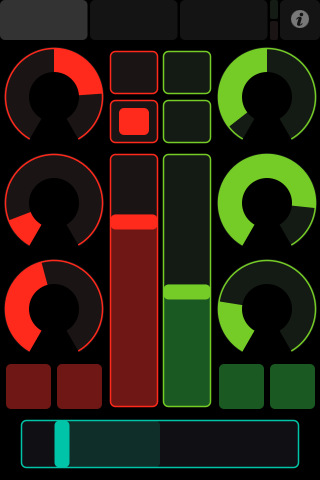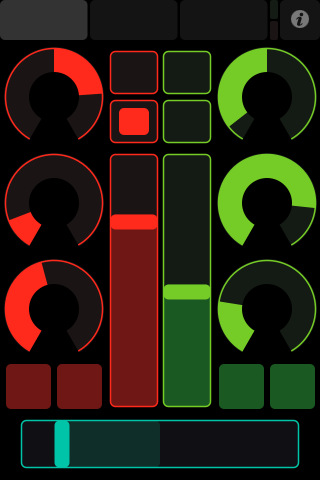 TouchOSC is an iPhone/iPod Touch/iPad application that lets you send and receive Open Sound Control messages over a Wi-Fi network using the UDP protocol.
The application allows to remote control and receive feedback from software and hardware that implements the OSC protocol such as Apple Logic Pro/Express, Renoise, Pure Data, Max/MSP/Jitter, Max for Live, OSCulator, VDMX, Resolume Avenue 3, Modul8, Plogue Bidule, Reaktor, Quartz Composer, Vixid VJX16-4, Supercollider, FAW Circle, vvvv, Derivative TouchDesigner, Isadora and others.
Price: $4.99
View on iTunes
Instruments
KORG iMS-20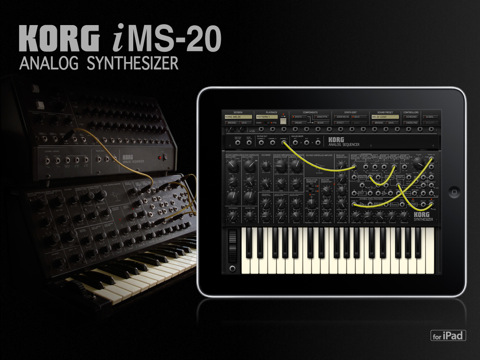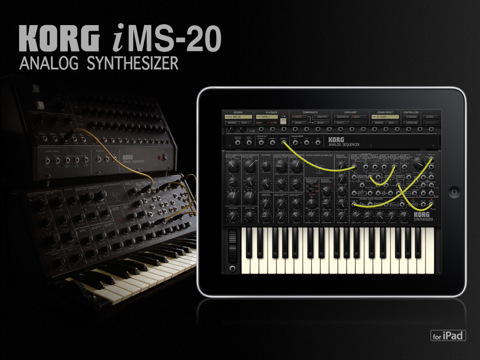 iMS-20 is a complete music production app for iPad. It consists of a complete recreation of the legendary Korg MS-20 analog synth with the patching capability, plus a 16-step analog sequencer based on the Korg SQ-10, a six-part drum machine which can create drum parts by simply tapping the buttons, and a seven-channel mixer with 14 types of effects.
Price: $32.99
View on iTunes
Pianist Pro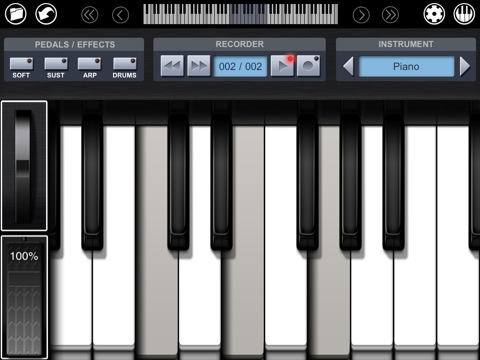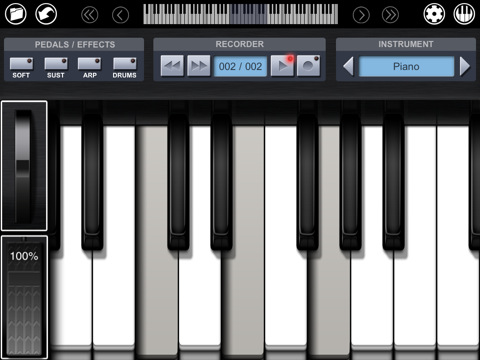 Pianist Pro is a virtual piano designed specifically for the iPad, with the same great interface and style that has made Pianist the best known piano on the iPhone, and a whole host of new features too.
Containing the full 88 keys of a professionally sampled piano with configurable soft and sustain pedals, up to 11 keys can be pressed at once and react to the touch just like a real piano. Choose between single or dual keyboards with a configurable key size.
Price: $32.99
View on iTunes
Synth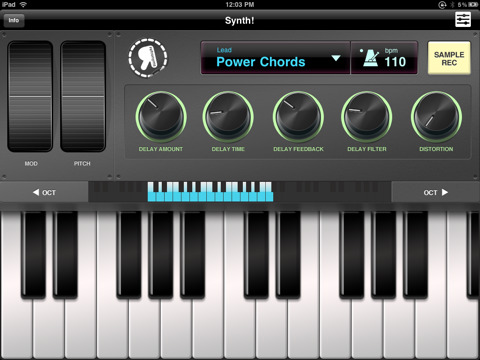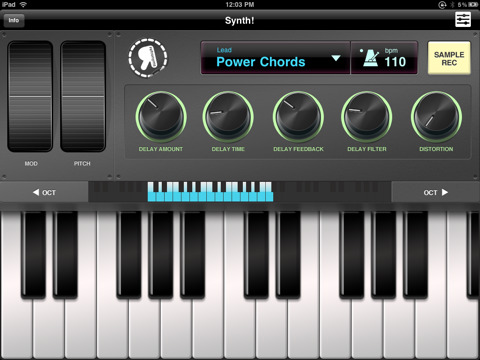 Synth is easy to use and fun to play! It comes packed with over 40 instruments and a series of effects to play with. Tweak the Mod wheel to adjust LFO or filters, while the delay and distortion knobs create a wide range of great sounding effects.
Re-live the Casio SK-1 days with the sampler! Sample anything with the iPad mic, and play it back on the keyboard.
Price: $0.99
View on iTunes
iBone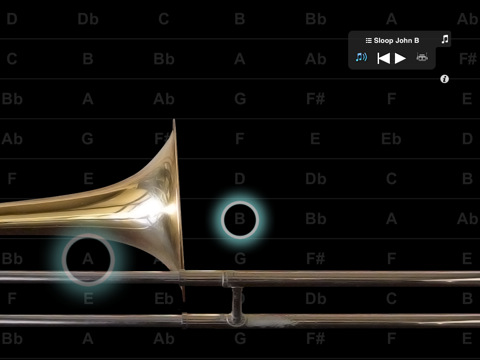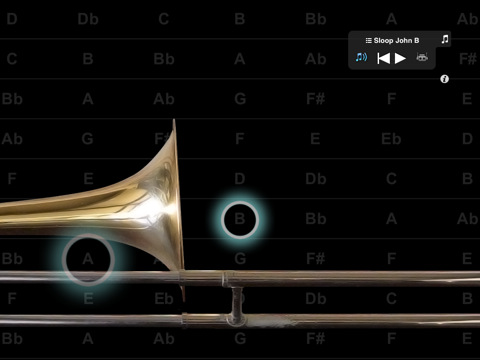 It's the Trombone for your iPad. A little big for your pocket, but easier to see and play than the original. It's still a great way to learn, and you're sure to impress your friends.
Price: $2.99
View on iTunes
Utilities
Symphony Pro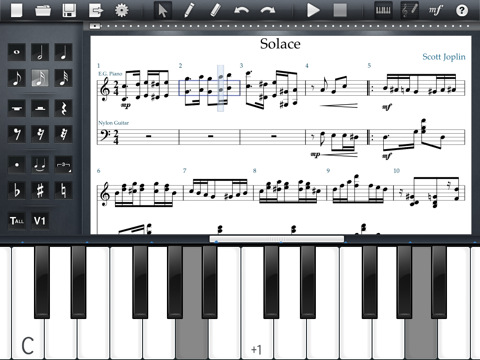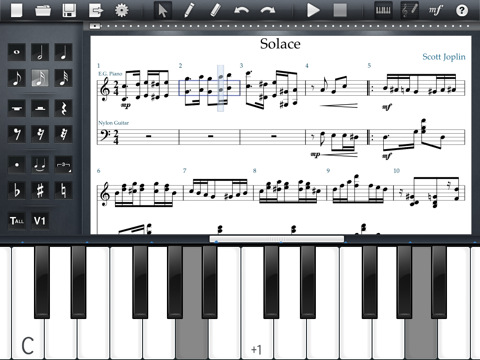 Symphony Pro is a multi-track music notation editor that allows you to quickly write and play back music from wherever you are.
Import in any MIDI, ABC, or Symphony file via URL, open up one of your saved compositions, or begin with a blank page, and you're ready to start writing.
Supports a wide range of notational elements, including arpeggiated chords, ritardandos, staccatos, tuplets, time and key signature changes, altername endings, and repeats.
Price: $12.99
View on iTunes
forScore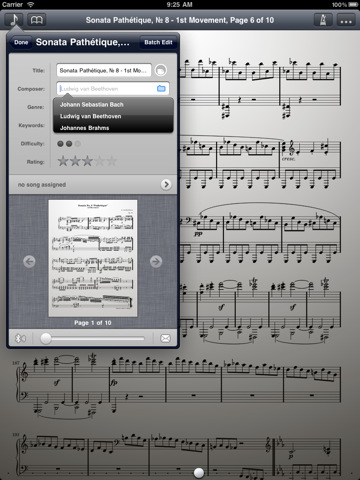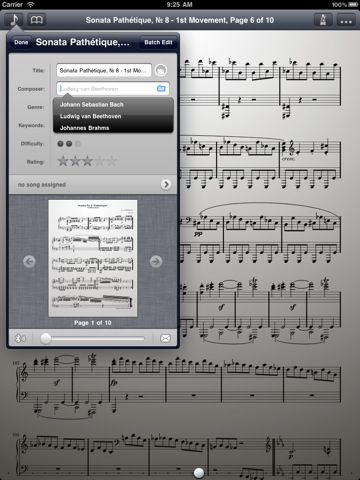 forScore was designed as a way to take thousands of pages of score with you on the go. By balancing innovative features like the visual metronome with a gorgeous interface and the most robust library organization of any music reader, forScore proves that you really can have an app that's both powerful and beautiful.
Price: $4.99
View on iTunes
Guitar Lab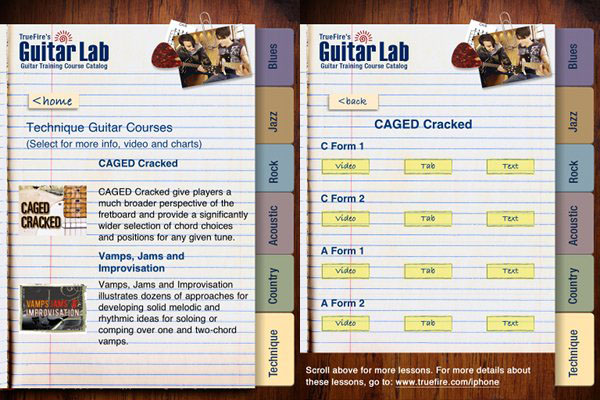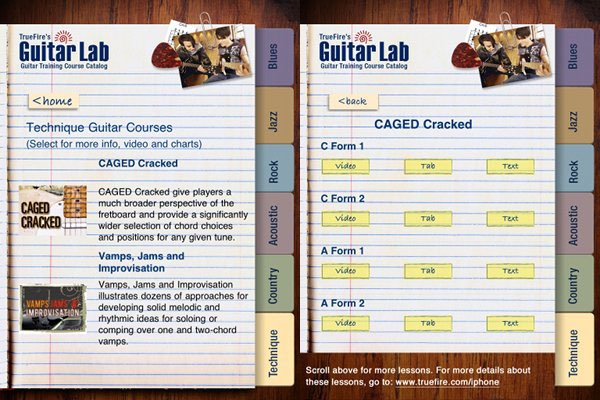 Guitar Lab video lessons are sourced from our most popular full-length study programs and then assembled into standalone "lesson plans" suitable for both short and long practice sessions with the app.
Price: Free
View on iTunes
Fun
Aura 2:Flux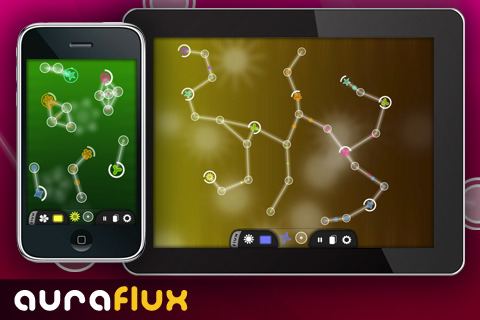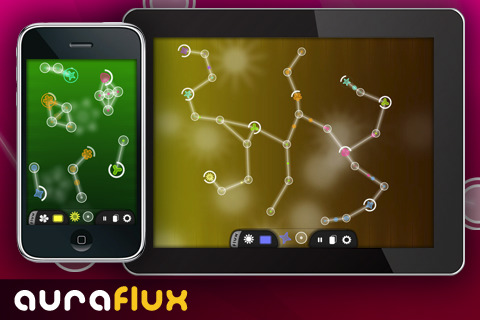 Aura Flux is a unique and innovative ambient music creation App for iOS devices. Create unlimited, generative music by simply connecting nodes together drawing pictures. With a wealth of options available for each node the sound, frequency, pitch can be changed to your needs or set to random to create evolving music.
Price: $1.99
View on iTunes
Beatwave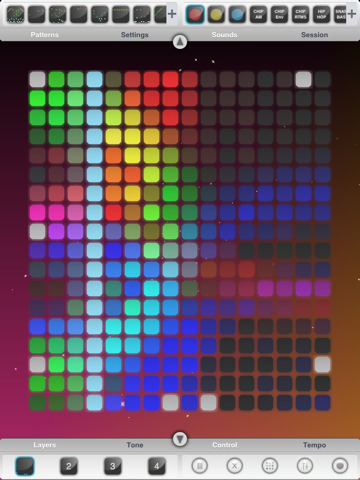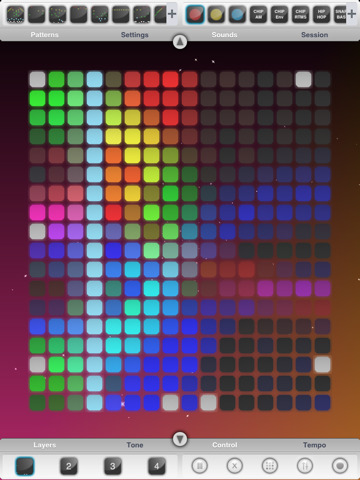 Beatwave offers a comprehensive range of instrument samples, and endless ways to mix n match them, all wrapped in a stunning visual interface that gives even the most tone deaf would-be Dj the ability to visually create perfectly in sync hit tunes.
Price: Free
View on iTunes
Soundrop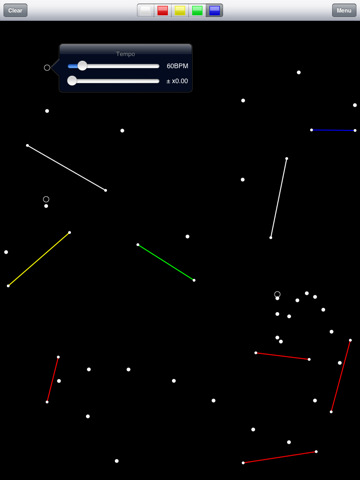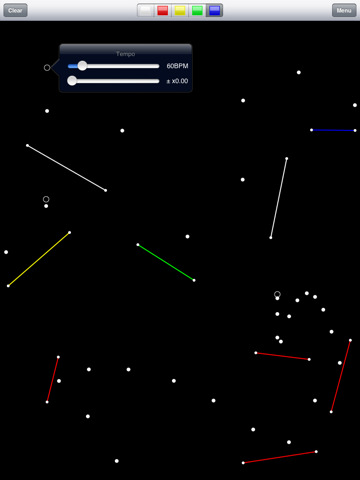 Draw lines and watch as Soundrop uses them to create music! Listen with headphones for the full effect.
Price: Free
View on iTunes
Conclusion
The iPad has had time to settled and developers are getting their hands dirty releasing some fantastic apps. I feel we're only just starting to explore what's possible with the iPad and with iPad 2 round the corner, things can only get better.
What apps are you excited about?