A capo is one of the most undervalued guitar items. There are guitarists who consider it only a cheat that replaces the playing of barre chords with open strings chords that are easier to master.
But a capo is a lot more than that. Let's look at what exactly it is.
In addition to being great for beginners who want to play their favorite songs of the original key, it is also very effective for higher level guitar players.
Many guitarists use it to play in a higher key, but at the same time have that open strings chord sound. This opens up a whole bunch of possibilities and combinations of chords and tones in each key.
A capo is also very useful for singers because its setting changes the key to make it suitable for their voice. This practice is most often used when male vocals perform female songs or vice versa.
However, the biggest benefit of the capo is enjoyed by songwriters with have minimal guitar skills. With this, they have a helping tool through which they will realize their lyrics and melodies.
How does the capo work?
A capo is actually a replacement for the nut on the guitar. If we put a capo in the first field, the first major E major chord will be F Major but with open strings sound.
Another way to see the capo's function is as a replacement of the index finger in barre chords.
What types of capo are there and how are they set up?
There are several types of capos. The difference is in the way in which they operate and the material from which they are made.
For starters, almost all capos have a rubber section which goes on the wires. Using a rubber material is good because it does not damage the wires and the fretboard.
It is best to put this part on the second half on the fret to avoid the buzzy sound.
Clamping the capo around the neck works in two ways – as a close pin or as a clamp.
Let's look at some capo brands. The most popular ones are:
Shubb Deluxe S1 Stainless Steel Guitar Capo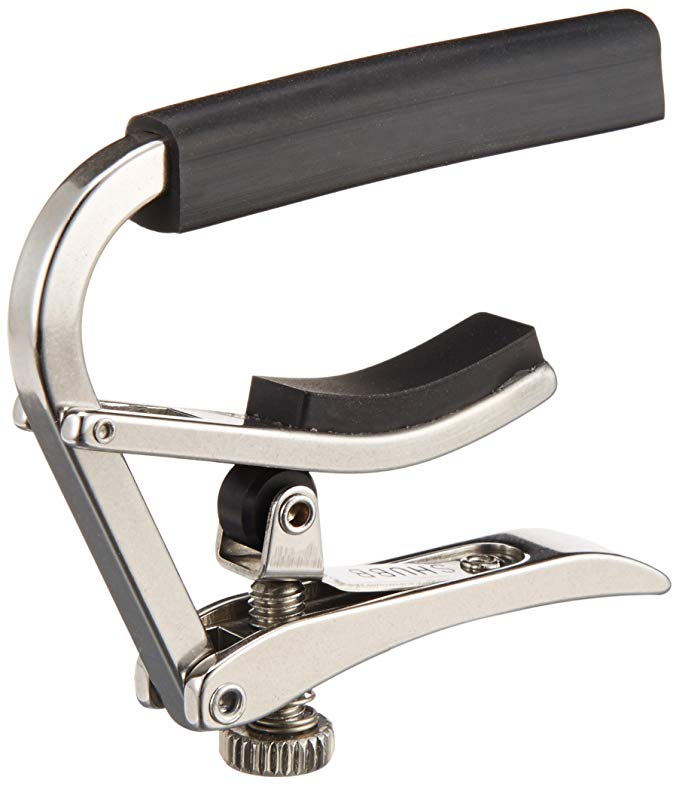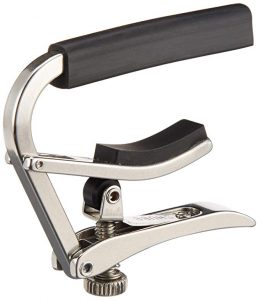 This capo is a small metal item that is very easy to use. Thanks to its size, it is discreet and does not get in the way on the hand while it moves along the fretboard.
It is composed of three metal parts, one of which is placed on the wires.
The second part is the section that is placed on the back of the fretboard and the third part is the mechanism that determines the level of constriction of the capo.
It is very solid which is a guarantee that the tone will be stable and in perfect tuning even with electric guitars. His firmness also removes the annoying buzzy sound.
When not fitted, the capo can be loose. Therefore, when you are placing it on the back of the guitar, you need to press the back lever. Now you need to determine whether the pressure on the wires is sufficient or should be reduced/increased.
Because of its metal construction, this capo is quite durable. The only part that can be damaged is the rubber part that touches the wires.
Fortunately, Shubb has compensated this flaw by making it available to purchase this part separately so you do not have to replace the entire capo.
The downside for this capo is that you can not put it on the headstock. This can be a problem if you are on stage.
The Shubb Deluxe Capo has an affordable price. Even more so if you consider the product's endurance.
Like most brands, Shubb offers capos for both Classical Nylon Strings guitar and for 12 Strings guitar.
Paige 6 string standard Capo – Satin Nickel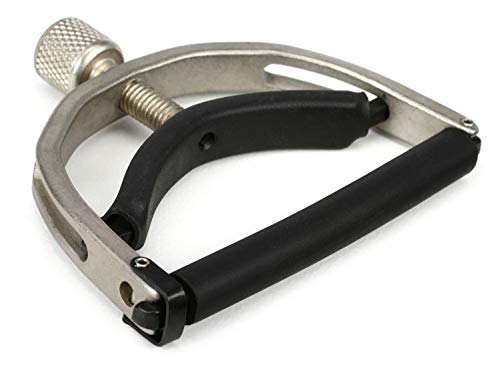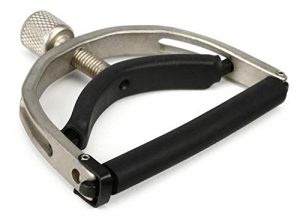 Paige is one of the older manufacturers of capos.
One of their biggest features is the simple U-shaped design in which the middle is a clamp that can be regulated manually.
So you can control the tension over the wires.
Although it is very small and lightweight, it is solid and stable enough to keep perfect tuning all the time in both acoustic and electric guitars.
If you do not need it you can always temporarily loosen it by placing it above the nut.
This is very useful when you are not using it continuously but want it to be available at any time.
The durability of this capo is incredible. According to user experience, this capo is a lifetime solution. Plus its price is among the cheapest among quality capos.
Kyser Acoustic Guitar Capo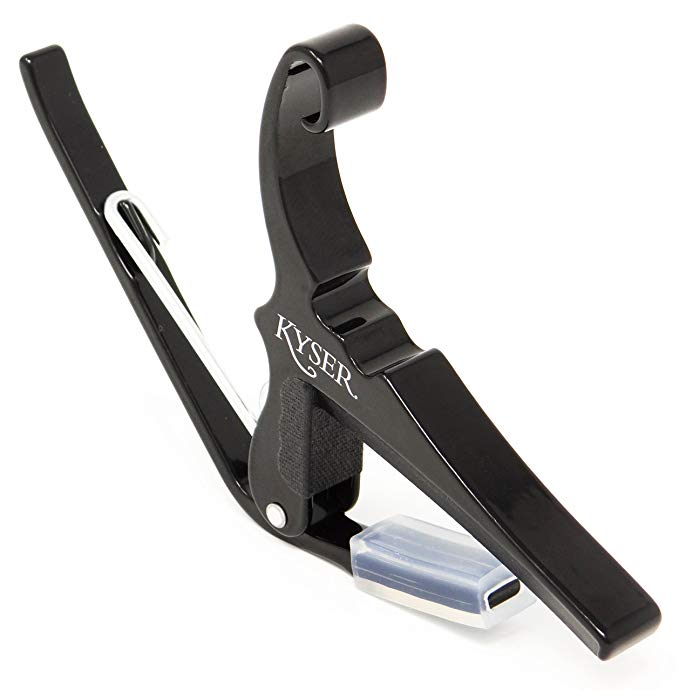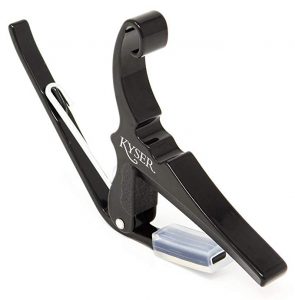 Kyser capos are one of the most popular among the guitarists and we'll see why.
This capo works on a close pin principle. This makes its mechanism very simple and setting and the movement through the neck very easy and fast.
One of the most important criteria for a good capo is how much it is keeping the guitar in tune.
Kyser is good for acoustic but definitely not for electric guitars.
This is due to the close-in mechanism that has no clamp to regulate tension. It is fixed and is limited only to acoustic guitars.
However, this mechanism has good sides. It can easily be attached to the headstock, which will not get in the way when you are not using it.
On the other hand, its design is one of the worst. It's pretty big with very specific lines that, in my opinion, are pretty ugly. With its size, it is very noticeable and if the look is important to you this is not the best choice.
The price is almost identical to the Paige model, but in my opinion, except for greater mobility, the Paige Capo has better quality.
Thalia Capo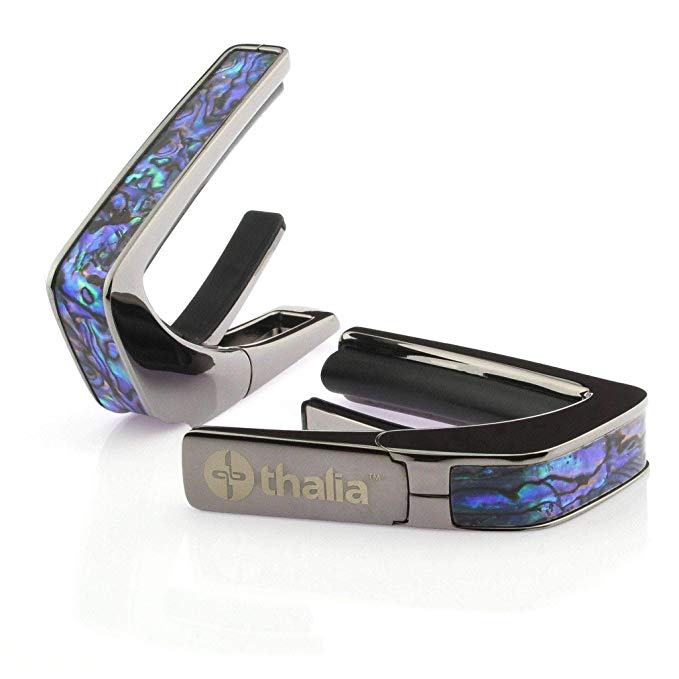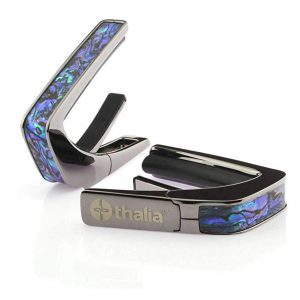 Thalia produces capos that contain all the positive features of the previous models and have eliminated the negative ones. This sounds amazing, but let's take a closer look to make sure.
I'll start with the mechanism. Thalia has a mechanism that allows you to quickly move along the guitar fretboard. Although this mechanism has no clamp to regulate tension, making it adaptable to all kinds of guitars, Thalia has an element that covers this defect.
The fret pads are interchangeable and are available in 6 formats, making this capo adjustable literally for any type of guitar.
Of course, this has its own weak side. Changing these parts is a complex process that is not practical if you are on stage.
In addition, these extra parts can be easily lost and thus this capo becomes useless. Risky, right?
The design is the second feature that makes this capo very appealing.
It has 6 variants of wooden patterns with a metal finish, which visually corresponds to any type of guitar.
The Thalia capo is pretty heavy and noticeable on the neck, but that's the main goal.
It is also buzz free which is another plus.
However, all these extra elements have their own price which makes this capo one of the more expensive.
What did we learn about capos?
Once you've explored at least a little bit about what capos are available the choices are actually huge.
In my opinion, it is up to you to decide which capo will best suit your needs.